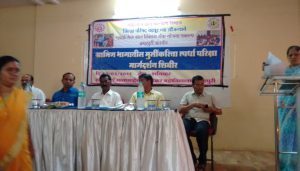 The Centre For Entry in Services
               The College has a Centre for Entry in services. The centre provides coaching and guidance to the students about various competitive examinations such as MPSC, UPSC, NET/SET, Bank exams, State level government jobs. District level government jobs. It organizes various programs and activities such as workshops, Seminars training programs mock interview sessions guest lectures and guidance sessions of the experts.
Objectives
To coach, train and guide students for appearing various national and state level examinations
To develop the personality of the students.
To orient students about the job opportunities.
To inculcate employability skills among students
To develop a sense of competitiveness among students.
Members of the Centre
Azizul Haque                                     Chairperson
L. H. Nandeshwar                             Co-Ordinator
T. B. Awatale                                     Member